The Electrolyte S6 E
The S6 E combines a classic bicyle diamond frame with hightech components throughout. Super low maintenance with Heavyduty Pinion Gearbox, extremely reliable Gates Carbon Drive Belt and the Made in Germany Neodrives rear Hubmotor. Our Frame is handcrafted from Aerospace grade 7020 T6 Aluminium resulting in a super stuff frame with riding properties on par with racing bikes. Longevity, virtually maintenance free and a thrill to ride to no matter where you are. Handcrafted for you right in our Dreambike-Foundry in the outscirts of Munich.
Aluminium frame with handsanded Welding seems
---
Our Frame is handcrafted from Aerospace grade 7020 T6 Aluminium resulting in a super stuff frame with riding properties on par with racing bikes. Hydroformed tubes allow us to have variable tube thicknesses resulting in more strength where it is needed and less where it is not, leading to lighter optimised Frames.
More info about our Frames
Our bikes offer multiple sizes that we have created wih upmost care to offer a size for every customers unqiue bodily dimesions while still reflecting the design, features and usage scenario of the bike. A massive assortment of adjustable components like stems, stem angle, handlebar, seatposts and grips will complement the frame to make the bike fit perfectly. If all efforts to find your ultimate comfortable settings fail with components, we can just make you a custom Frame.
Frame Craftsmanship has been long lost in most of Europe, but a few select companies strive to keep it alive and to this date create the highest quality frames possible. We are truly passionate about what we create every day, and this passion translates over to every customer that takes pride in receiving their own Electrolyte Bike, an experience that is normally lost when getting mass production product from large assembly lines on the other side of the planet. Our Aluminium Frames are welded from the world-renowned special bike builder Duratec.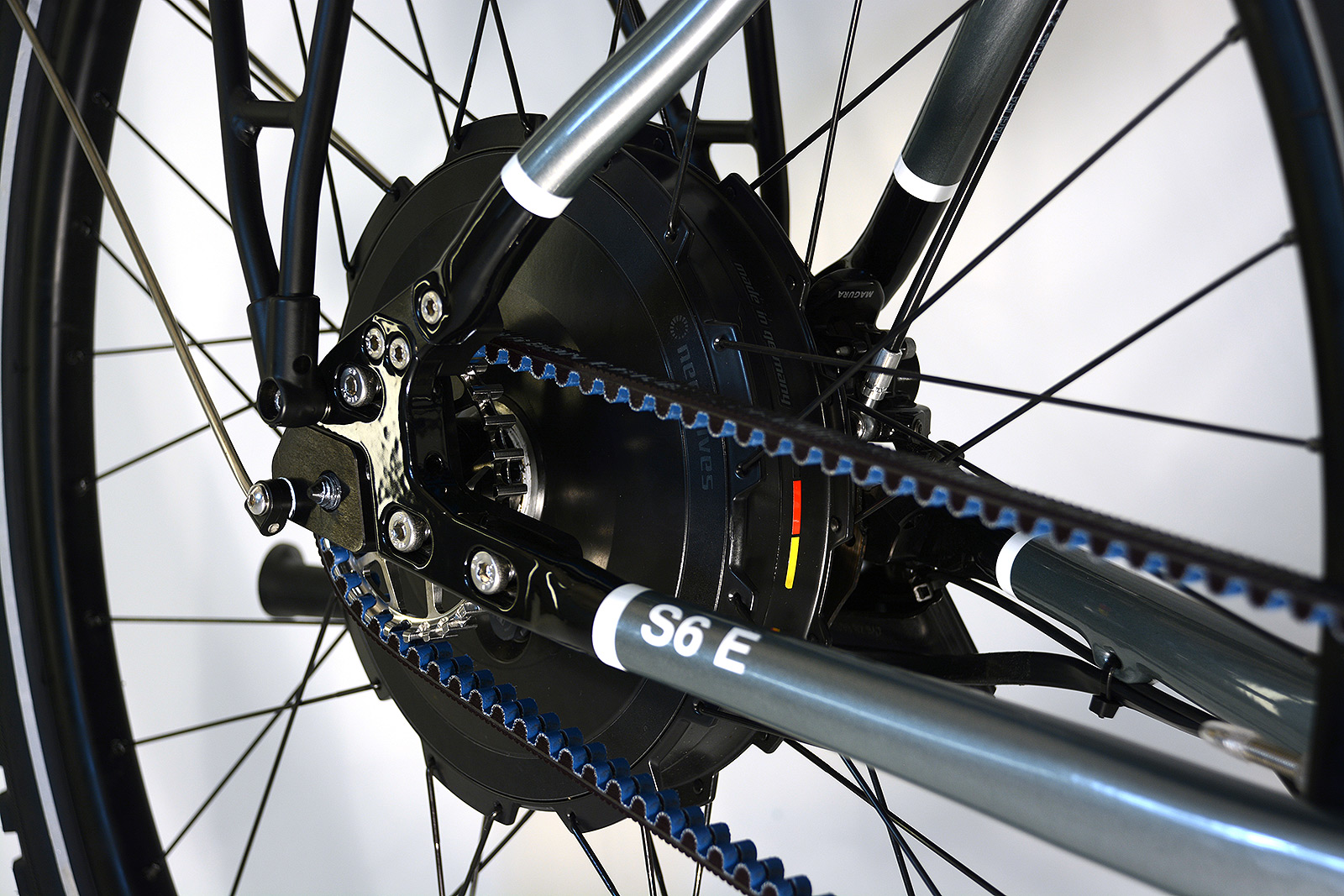 Silent and Strong Propultion
---
The Neodrives Rear Hub Motor is silent direct drive motor offering powerful acceleration and instant reaction times. 40Nm of Torque are generated right at the wheel, and due to no detours through other components efficiency is greatly increased resulting in a motor that feels like no other. Even the finest changes in rider input on the pedals are sensed by the fully integrated torque sensor and the motor is adjused within milliseconds.
More info about our Motors
Best of all? It is totally silent. How is this possible: Direct drive motors have no Gearbox and because there are no contacting surfaces there can be not noises or vibrations. All parts of the motor, Controller, Torque sensor and Copper winding a housed in a robust powdercoating aluminium enclosure. In itself the motor needs to serive at all, never, and it is completely isolated by sophisticated Seals. Driving pleasure even on long climbs. A brandndew thermostability system and the insanely high efficiency levels allow you to use this motor in all terrain. Another advantage, when riding downhill you can turn your motor into a generator, it will assist in braking and regenerate energy into your battery, leading to longer range. An ideal combination of components for daily pleasure riding.
Low-Maintenance High-Performance Gearbox
---
The Pinion Gearbox is a marvel in engineering. Precise shifting, even when standing still is engineered following principles used in moden Automotive gearboxes. A constantly realiable, wear free Gearbox that will accompany you for the life of the bike.
More info about our Gearbox
Mounted in the Center of the bike in a Magnesium Body, the Pinion Gearbox is the future of shifting technology right at your toe tips. no overlappting gears Bad efficiency an increased wear is a thing of the past as the belt or Chain system does not affect the internal systems. A breathtaking 630% gearing is achieved in a super compact housing with precise shifting.
Energydense long lasting Battery
---
Only the most moden Li-Ion batteries are used for your S6 E In simple terms this translates to, the lowest weight with the highest amount of Range, No Memory Effect and a long lifespan. German Made locking mechanisms keep the battery securly in place and safe from thieves.
More info about our Batteries
For increased usability you can charge the battery on the bike, or take it with you and cahrge it from your plug in the warmth of you house.
Achieving all these benefits is only possible with using the best and most reliable round battery cells available in the industry. Coupled with safety electronics that monitor the battery at all given times you are safe from over discharge and underdischarge and thermal damage., We have accumulated the most important information about how to use your battery in our FAQ and the User Manual.
Uncomplicated and clean Belt Drive
---
Free yourself from ölstained clothes, rusted chains and join the Gates Carbon Drive Revolution. Clean. Quiet. Strong. These are the main advantages of the Gates Carbon Drive™ Systems.
More info about our Belt Drive
Carbon Fiber reinforced belt drives have an immense lifespand and need absolutely no maintenance. Maintenance intensive bike chains are a think if the past. Switch over to simplicity and fun,
Hydraulic Disc Brakes
---
When it comes to safety we dont joke around, all of our bike are fitted with hydraulic disc brakes from leading manufacturers as standard as you dont want to loose that large smile you get on your face from the powerful motors, when it comes down to it.
More Info about our Brakes
High quality brakes are finely tuned and grip in all situations.
Cant find your wishes?
Standard equipment included in the base prices is always high quality and optimised for the bike variant. However our goal is to build your dream bike. Endless combinations of components and your personal taste make every bike that arrives in the customers hands unique. and your dreambike is also you perfect bike. Our bikes can be adjusted to your personal preference, Small changes like Grips, saddles, handlebars up to custom Frames and custom colours.
Here are a few example of Custom Bikes: Dont hesitate to contact us to discuss your perfect components combination. No idea is crazy enough for us to not think about how to solve it.
Your Dreambike in your Dream Configuration
optimal seating position adjusted for your needs
choose your custom Colours for a bike like no other
Free shipping for Online orders
Your Dreambike in your Dream Configuration
optimal seating position adjusted for your needs
choose your custom Colours for a bike like no other
Free shipping for Online orders
Direkt delivery to your doorstep
Your bike comes fully assembled and ready to go
All our models with standard equipement and colours have a 30 day Free-Return period
Direkt delivery to your doorstep
Your bike comes fully assembled and ready to go
All our models with standard equipement and colours have a 30 day Free-Return period
10 Year Warranty on your frame for Material and constuction defects.
First customer service free within the first year of ownership
Service and Repair drectly from the mechanics who built your bike
10 Year Warranty on your frame for Material and constuction defects.
First customer service free within the first year of ownership
Service and Repair drectly from the mechanics who built your bike