The Electrolyte S8 E
Fully integrated battery and optimal components for its field of use put the S8 E in a class of its own. Super low maintenance with Heavyduty Pinion Gearbox, extremely reliable Gates Carbon Drive Belt and the Made in Germany Neodrives rear Hubmotor. The Electrolyte S8 E "Zugvogel" is handcrafted to your specs in our Dreambike Foundry in the outskirts of Munich.
E-Bike Test-Result: VERY GOOD
Elektro-Rad review Magazine tested our S8E with great results in the SUV e-Bike category!
Have a look at the Test-Report
The S8 E down to its Details
Silent and Strong Propultion
---
The Neodrives Z20 Rear Hub Motor is silent direct drive motor offering powerful acceleration and instant reaction times. 40Nm of Torque are generated right at the wheel, and due to no detours through other components efficiency is greatly increased resulting in a motor that feels like no other. and due to no detours through other components efficiency is greatly increased resulting in a motor that feels like no other. Even the finest changes in rider input on the pedals are sensed by the fully integrated torque sensor and the motor is adjused within milliseconds.
More info about our Motors
Best of all? It is totally silent. How is this possible: Direct drive motors have no Gearbox and because there are no contacting surfaces there can be not noises or vibrations. All parts of the motor, Controller, Torque sensor and Copper winding a housed in a robust powdercoating aluminium enclosure. In itself the motor needs to serive at all, never, and it is completely isolated by sophisticated Seals. Driving pleasure even on long climbs. A brandndew thermostability system and the insanely high efficiency levels allow you to use this motor in all terrain. Another advantage, when riding downhill you can turn your motor into a generator, it will assist in braking and regenerate energy into your battery, leading to longer range. An ideal combination of components for daily pleasure riding.
Low-Maintenance High-Performance Gearbox
---
The Pinion Gearbox is a marvel in engineering. Precise shifting, even when standing still is engineered following principles used in moden Automotive gearboxes. A constantly realiable, wear free Gearbox that will accompany you for the life of the bike.
More info about our Gearbox
Mounted in the Center of the bike in a Magnesium Body, the Pinion Gearbox is the future of shifting technology right at your toe tips. no overlappting gears Bad efficiency an increased wear is a thing of the past as the belt or Chain system does not affect the internal systems. A breathtaking 630% gearing is achieved in a super compact housing with precise shifting.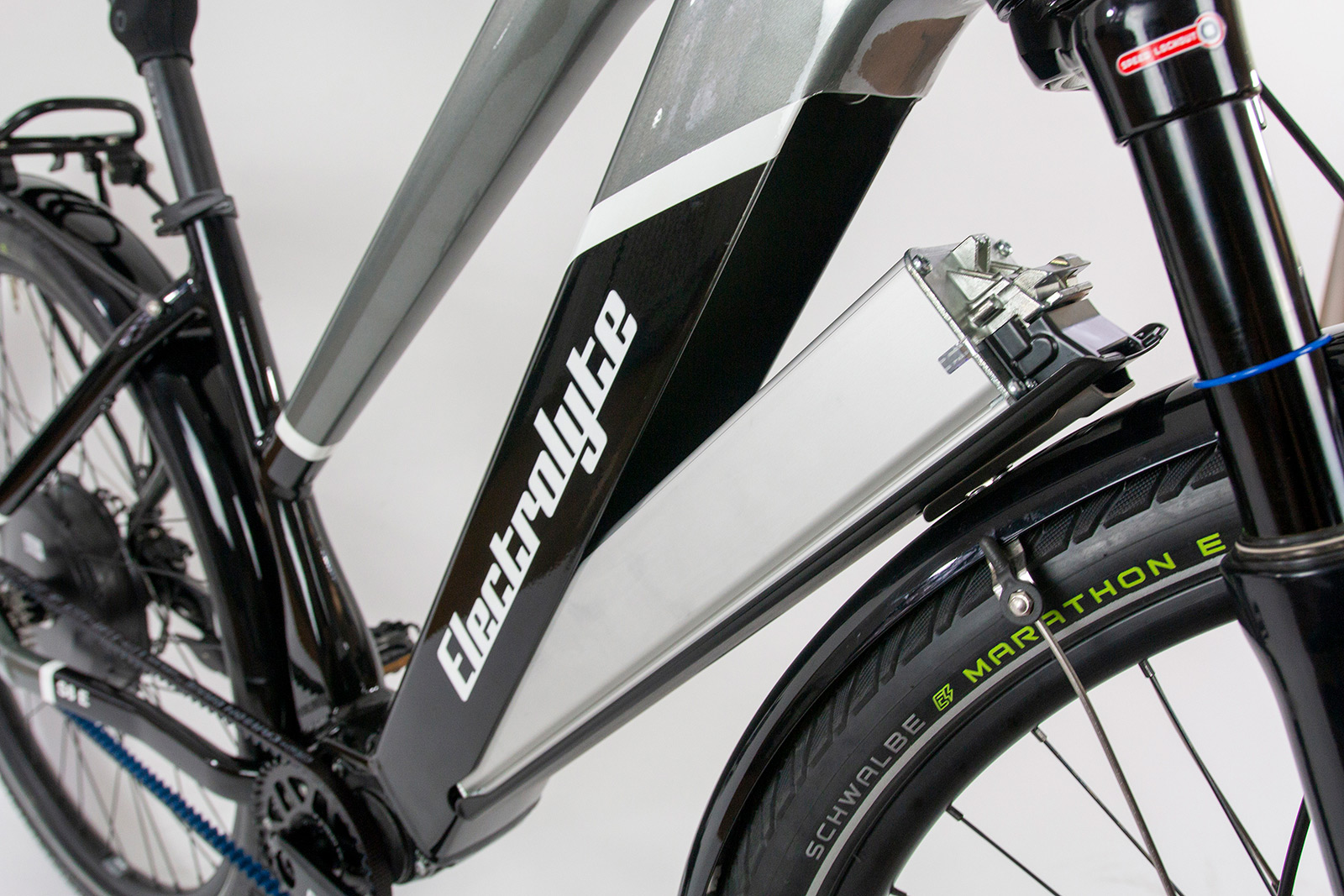 Energydense, fully integrated Battery
---
625Wh based on the newest Li-ion Technology hide away in your downtube. In simple terms this translates to, the lowest weight with the highest amount of Range, No Memory Effect and a long lifespan. An Integrated lock protects your battery from Theft
More info about our Batteries
An external plug allowes for charging when in the bike but if necessary it can be removed an charged in your home.
Our bikes get only the finest parts - "Made in Germany" even the battery! BMZ is the largest German Battery manufacturer, assembling the highest quality cells with advanced electronics into a robust aluminium Enclosure. During your ride it is optimally protected from the weather and from damage in the sturdy aluminium Frame,
Coupled with safety electronics that monitor the battery at all given times you are safe from over discharge and underdischarge and thermal damage., We have accumulated the most important information about how to use your battery in our FAQ and the User Manual.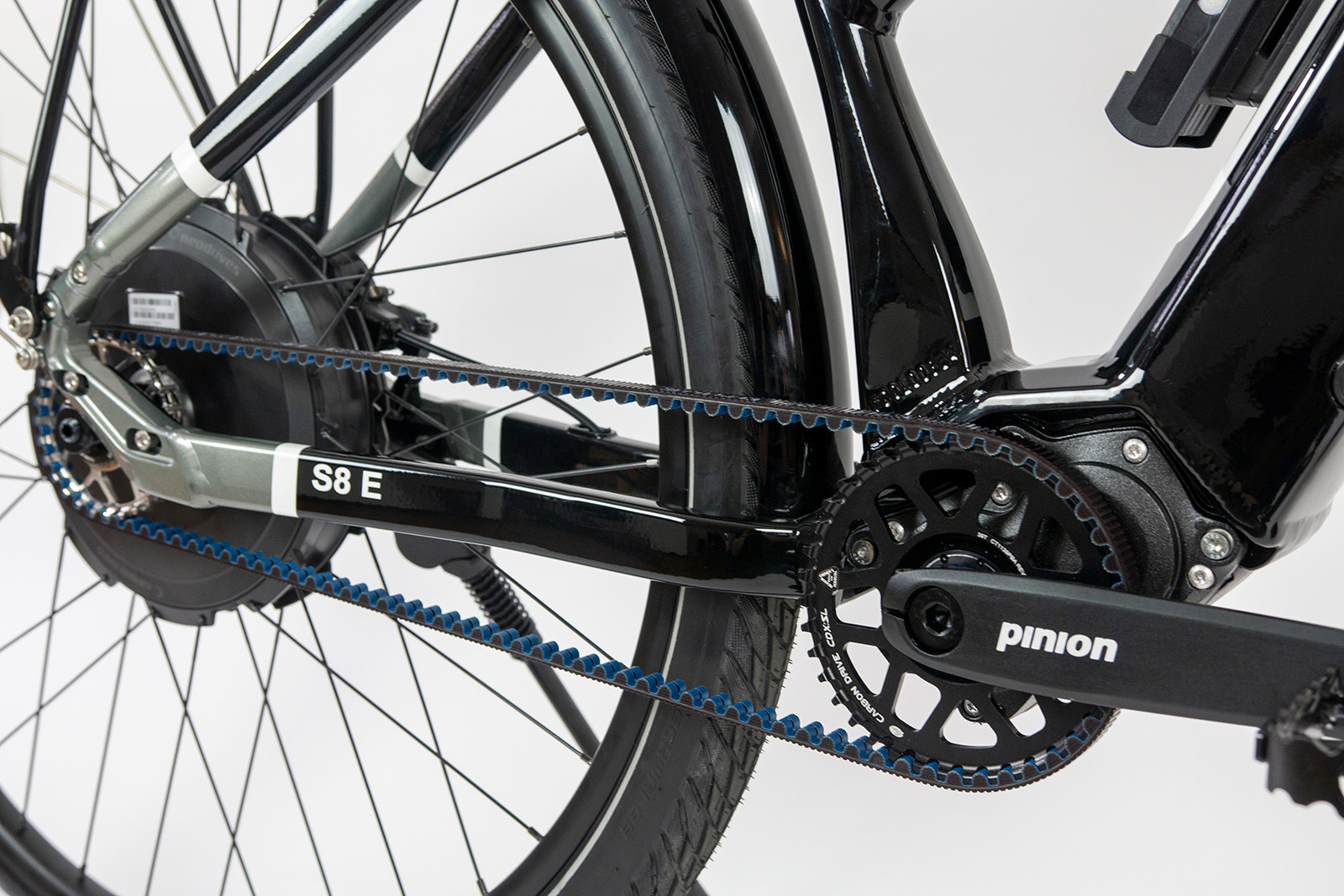 Uncomplicated and clean Belt Drive
---
Free yourself from ölstained clothes, rusted chains and join the Gates Carbon Drive Revolution. Clean. Quiet. Strong. These are the main advantages of the Gates Carbon Drive™ Systems.
more Information about our Belt drive
Carbon Fiber reinforced belt drives have an immense lifespand and need absolutely no maintenance. Maintenance intensive bike chains are a think if the past. Switch over to simplicity and fun,
2x as much Light
---
Standard equipment is the brand new Supernova Mini 2 Pro headlight that sets boundaries in its power for the overal size. A phenomenal 550lm High beam complements the go anywhere attitude of the bike, ergonomically activated over the backlit button at your thumbtip.
more Information about our Lights
20 Years so far has the German company Supernova been building high performance headlights for bikes. The new Mini 2 Pro is tiny in its footprint but sports impressive specs with 235lm Low-beam and 550lm highbeam coupled with a senstational 5 year Warranty.
Ergonomics, of utmost importance
---
Intuitive control is vital so you can focus on riding and not on how to use your bike. The large + and - Button are ergonomically placed, High-Beam is triggered by a backlit button even at night, a loud Bell and 3-Finger Brakes are mounted easy to reach right next to the standard ergonomic grips.
more Information about our Components
See and be Seen is the most important safety feature. For that reason you get state of the art LED front and rear lights and the tyres have a super reflective ring for that extra bit of safety. The components can be be chosen by you in any way you desire because you should always get the bike you want.
Cant find your wishes?
Standard equipment included in the base prices is always high quality and optimised for the bike variant. However our goal is to build your dream bike. Endless combinations of components and your personal taste make every bike that arrives in the customers hands unique. and your dreambike is also you perfect bike. Our bikes can be adjusted to your personal preference, Small changes like Grips, saddles, handlebars up to custom Frames and custom colours.
Here are a few example of Custom Bikes: Dont hesitate to contact us to discuss your perfect components combination. No idea is crazy enough for us to not think about how to solve it.
Your Dreambike in your Dream Configuration
optimal seating position adjusted for your needs
choose your custom Colours for a bike like no other
Direkt delivery to your doorstep
Your bike comes fully assembled and ready to go
All our models with standard equipement and colours have a 30 day Free-Return period
Free shipping for Online orders
First customer service free within the first year of ownership
Service and Repair drectly from the mechanics who built your bike