SALE: Vorradler S3E Classic / Discontinued Model / white/blue / City-Kit
26. January 2017

Vorradler S3 E Pinion Low Step
29. January 2018
Vorradler S3E Pinion
4.990,00 €
The better Pedal-Assist Bike, Handmade
The "Vorradler" S3 E Pinion combines robust high performance, – low maintenance parts and sporty design on a package built to the highest quality standards. This bike has one purpose, worry-free pure riding pleasure. Unique to this handcrafted bike is the elegant integration of the electric drive components thanks to our in-house developed high performance Li-ion Battery.
Our frames are unique in both design and quality. All frames are made of super light weight aerospace grade 7000 series Aluminium and are hand-welded in Europe to the highest quality standards. Sanded off welding seems give a smooth finish to the frame. A high quality frame not only looks good but it feels good too, it doesnt matter under which circumstances, the frame in our S3 E Pinion does not bend or twist under load allowing for a safer and longer lasting bike. Infact we are so certain of the quality of our frames that we give you a massive 10 years of Warranty on the Frame under normal riding conditions.
The S3 E is fitted with a virtually silent and maintenance free rear hub Motor offering you a more dynamic ride, stronger acceleration and smooth assistance right where you need it, in the wheel. This removed the forces from your Chain or Belt Drive, making these vital components last longer and in turn you having more fun on your bike . As a bonus, when you are riding downhill you can manually choose to enter energy recovery mode, making your motor turn into a silent generator to feed energy back into your battery giving you a higher range and making your hydraulic disc brakes last longer! To take the riding experience to a new level you now have an integrated, designed, developed and manufactured in Germany, Pinion gearbox and American Gates belt drive. All gears are capsuled and therefore no longer exposed to dirt and water, meaning you dont have to worry about exposed parts getting damaged or about meticulous cleaning. The belt Drive is rated for a massive 10,000km by its manufacturer in every weather before needing replacement, but we have found it to last even longer!
One of the core components of an electric bike is the battery. Our Li-ion battery with a massive 522Wh of capacity was developed with one goal in mind: it is not allowed to fail! – and we are proud to say that our batteries will last you for at least 1000 full cycles (about 100,000km!) without needing replacement. It is safely attached to your bike with an integrated lock letting you remove and secure it with ease.
Silent, powerful drive
The rear-wheel drive system supports you with strong acceleration, high elasticity, quiet operation and plenty of power to spare. With 250W nominal power (peak power of about 750W) and 40Nm of torque, the motor sets the benchmark for electric motors. The power is applied directly to the hub – without detours. Thanks to a torque sensor, you always get the support that you need.
The beauty: the motor is very quiet. At 18-25dB it is less noisy than most quiet bedrooms at night. Energy recovery and brake conservation is possible whenever you go downhill: in Formula 1, this is known as KERS and is only possible with rear hub motors. The motor and torque sensor are protected in a sturdy bolted and waterproof aluminium casing. The motor is almost maintenance free and neither dust nor moisture can penetrate its shell.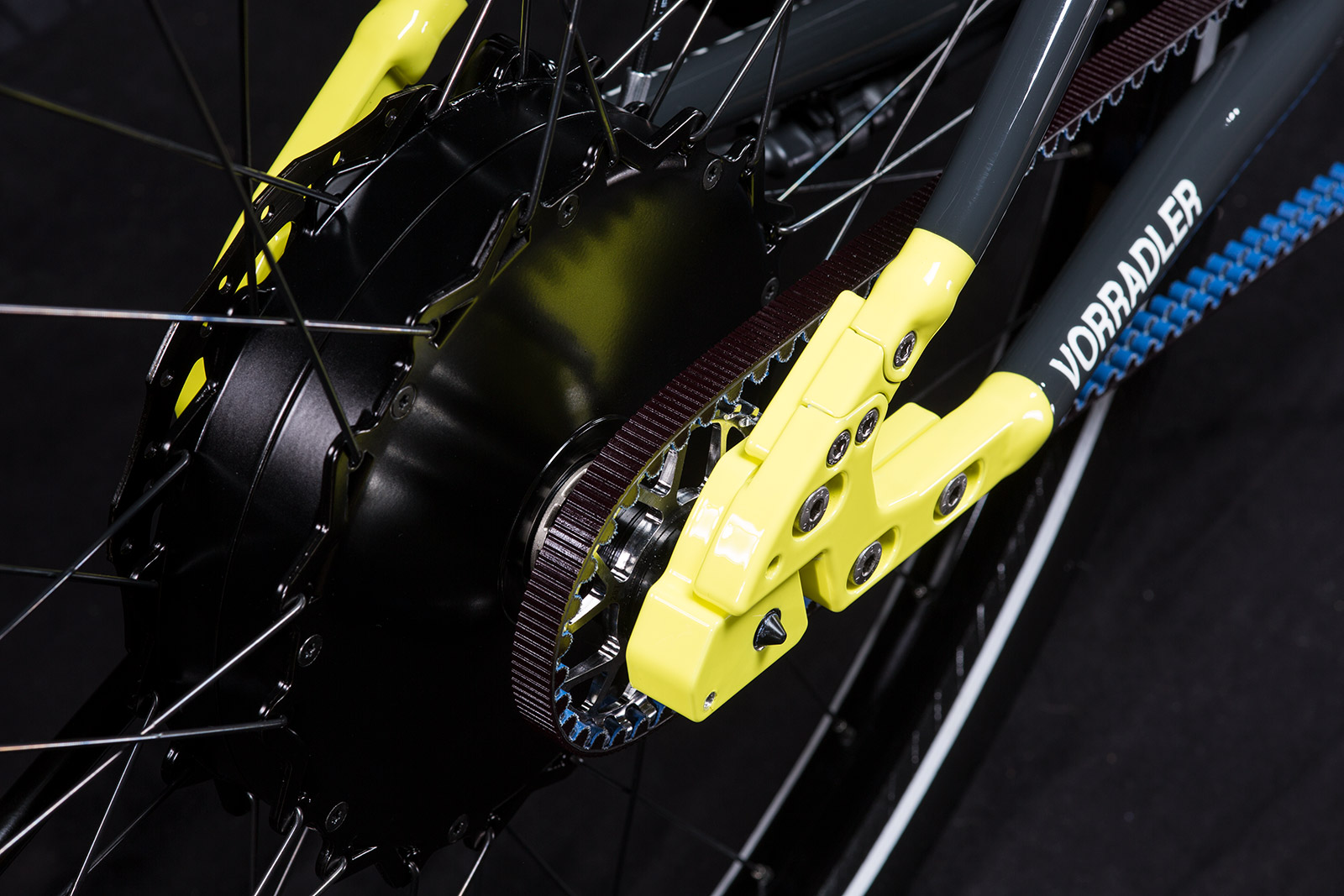 Low-maintenance High-performance Gearbox
The Pinion technology is based on a helical gear design. High-precision gear-shifts similar to sophisticated automotive gearboxes. Durable, dependable, no-wear and no need for adjustments, the Pinion gearbox will last the entire lifetime of your bike. Centrally integrated into the frame and protected by an enclosed casing, it's the definition of forward-looking bicycle drive technology.
No overlapping gears. The Pinion gearbox does not suffer from bad efficiency or increased chain wear either. Furthermore, it can reach a gear range of over 630% – you'll always have the right gear available in every situation.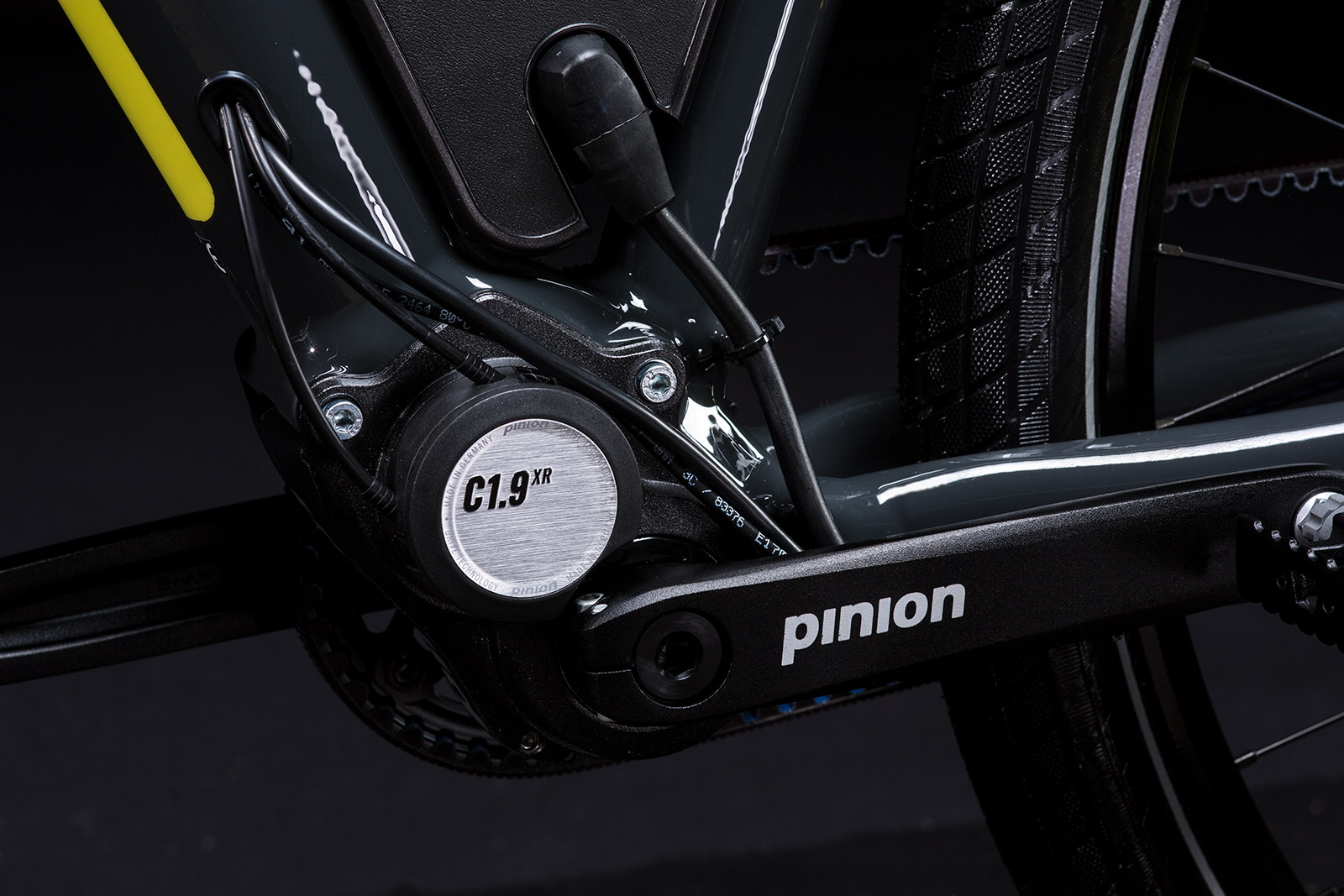 For our S3 E we use energy dense high performance battery cells from Panasonic fitted with high quality made in Germany electronics and a durable case. For you this translates to no memory effect, high lifespan and a lot of fun! Charging is dont by the magnetic plug on the side of the battery which can be performed while the battery is installed or after you have removed it from your bike with the integrated locking system.
Tips and tricks to our batteries can be found in our FAQ's or in the user manual to you bike.

SALE: Vorradler S3E Classic / Discontinued Model / white/blue / City-Kit
26. January 2017

Vorradler S3 E Pinion Low Step
29. January 2018
Vorradler S3E Pinion
4.990,00 €
Das bessere Pedelec von Hand gefertigt
Der Vorradler S3E Pinion verbindet zuverlässige, wartungsarme Technik mit sportlichem Design und höchster Qualität. Er ist für einen Zweck gebaut – purer Fahrspaß gepaart mit sicherem Fahrgefühl auf allen Wegen. Kennzeichnend sind sein klares und trotzdem dynamisches Design sowie die gelungene Integration des elektrischen Antriebssystems.
Der Vorradler verfügt über einen zugkräftigen Heckantrieb. Er beeindruckt durch satte Beschleunigung, hohe Elastizität, Laufruhe und starke Leistungsreserven. Das komplette Antriebssystem vom Vorradler setzt neue Maßstäbe. Durch ein KERS (Kinetic Energy Recovery System), bekannt aus der Formel 1, ist Energierückgewinnung bei der Bergabfahrt möglich. Der von Electrolyte entwickelte Akku fügt sich perfekt in das sportliche Design des Rades ein. Er ist sehr langlebig, zuverlässig, leicht entnehmbar und durch ein integriertes Schließsystem gegen Diebstahl gesichert.
Gerne passen wir das Rad auf Deine persönlichen Bedürfnisse an. Der Vorradler wird in Bayern handgefertigt und erfüllt höchste Ansprüche an Qualität und Sicherheit. Das Rad ist online bestellbar.
Der Antrieb in unserem Vorradler bietet größtmöglichen Komfort gepaart mit einer starken Unterstützung. Der geräuschlöse Motor ist perfekt für Pendler die schnell und komfortabel Strecken mit Motorunterstützung bewältigen möchten und sich dafür ein kraftvolles und harmonisch abgestimmtes Antriebssystem wünschen.
Mit 250 Watt Nennleistung und echten 40 Newtonmetern Drehmoment bildet der Heckmotor das Herz des Antriebssystems und sorgt für einen starken Vortrieb. Der Motor entspricht der Pedelec-Norm. Drehmomentmessung, Motorsteuerung und wichtige Schutzmechanismen sind direkt in den Motor integriert. Dadurch arbeiten sie zuverlässig und wartungsfrei. Die Staub- und Spritzwasserfestigkeit nach Schutzklasse IP 64 ermöglicht auch ausgedehnte Radtouren abseits der Straßen und bei schlechtem Wetter.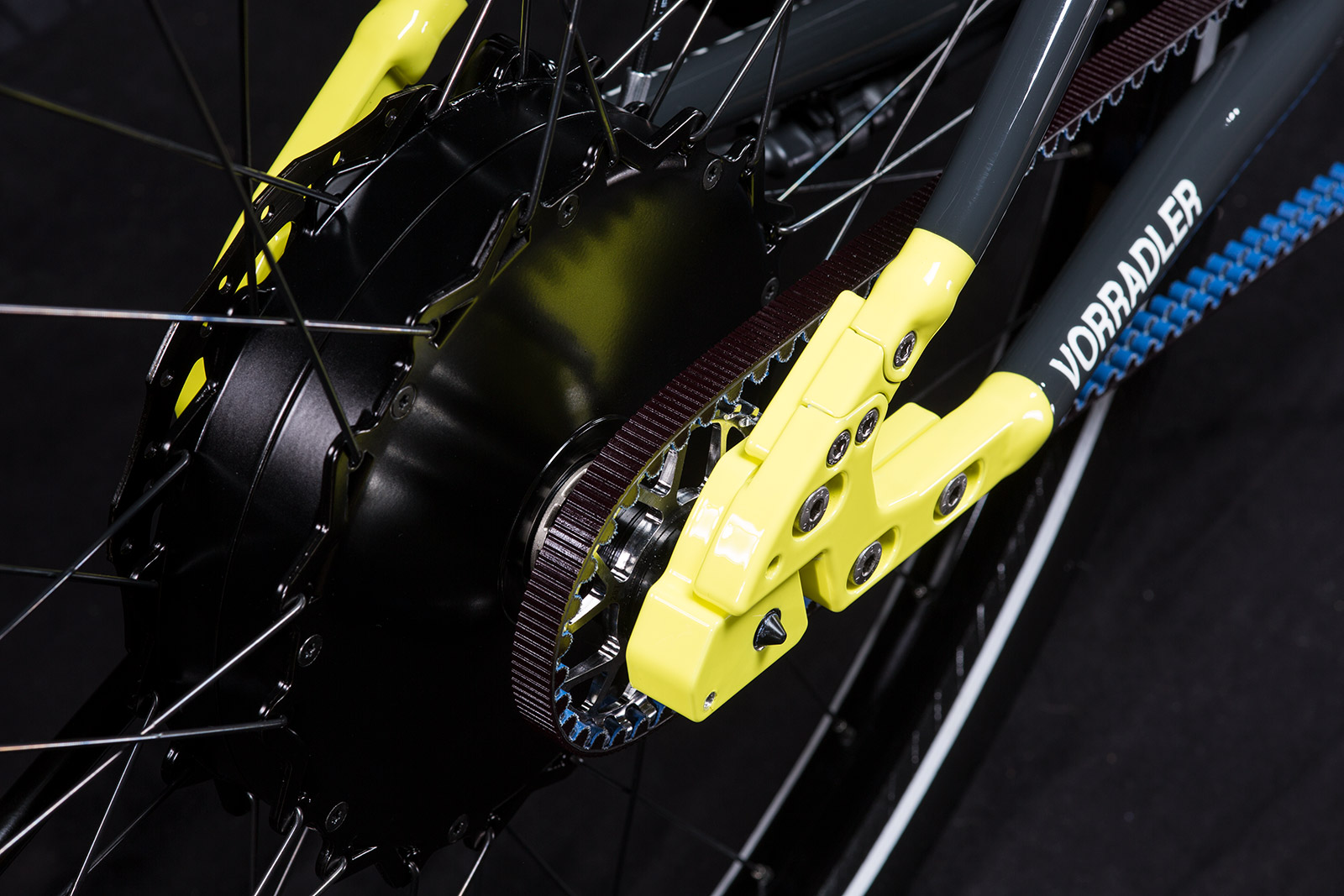 Die Pinion Basistechnologie basiert auf der Stirnradgetriebetechnik. Sie ermöglicht hochpräzises Schalten, nach dem Vorbild ausgereifter Automobil-Getriebetechnik. Dauerhaft zuverlässig, verschleißfrei und ohne Einstellarbeiten funktioniert ein Pinion Getriebe ein Fahrradleben lang. Zentral in den Fahrradrahmen integriert und von einem gekapseltem Gehäuse geschützt ist es der Inbegriff zukunftsweisender Antriebstechnik am Rad. Gangüberschneidungen gibt es nicht. Auch schlechte Wirkungsgrade oder einen erhöhten Kettenverschleiß kennt die Pinion Getriebetechnik nicht. Darüber hinaus werden Übersetzungsbandbreiten von mehr als 630% erreicht, so dass Du für jede Situation den perfekten Gang wählen kannst.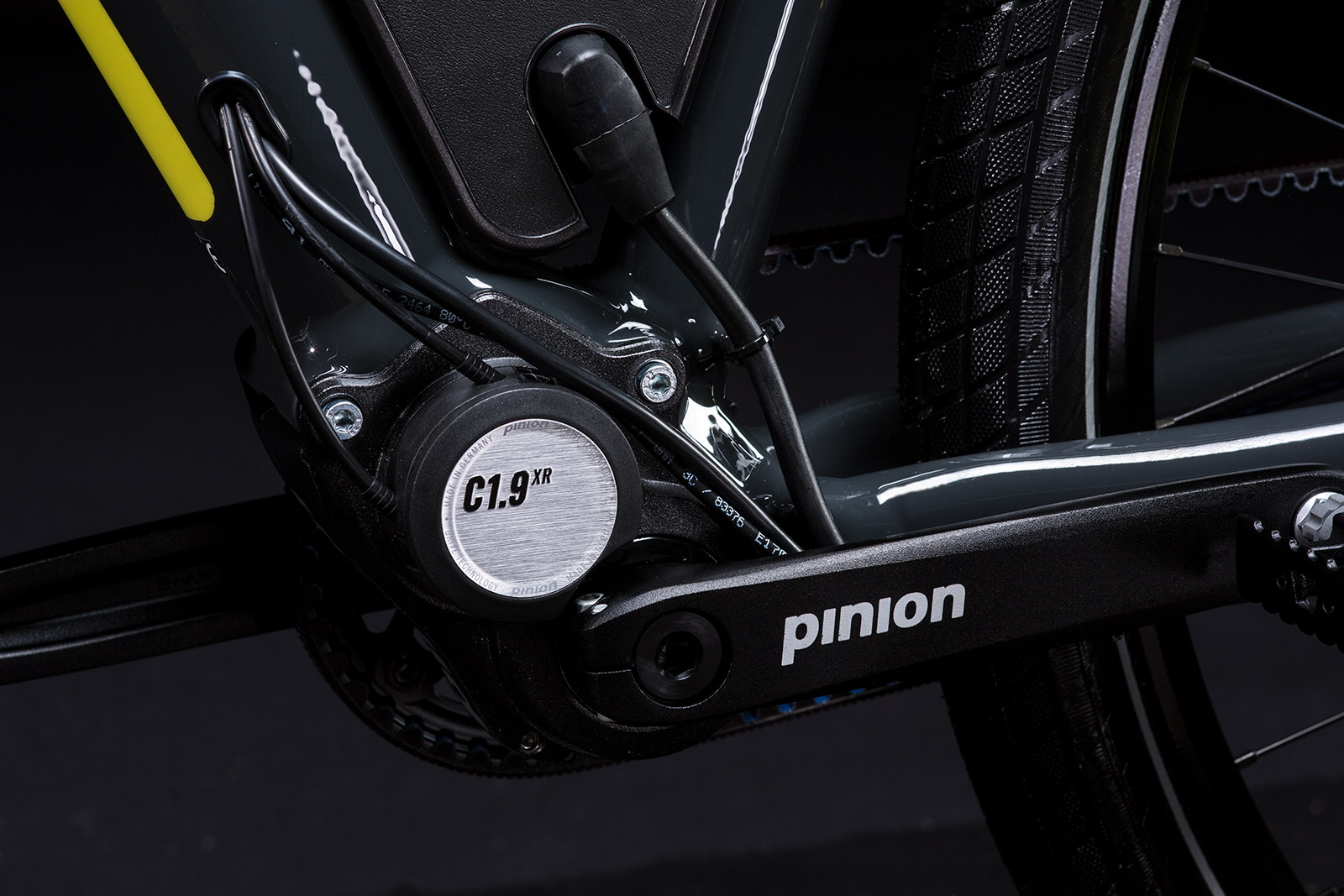 Bei unserem Vorradler setzen wir auf die Lithium-Ionen Technologie. Für Dich bedeutet das: größtmögliche Energiedichte, kein Memory-Effekt und lange Akkulebensdauer.
Der Akku kann an allen Modellen über eine Außenladebuchse im Rad geladen werden. Zudem lässt er sich auch einfach aus dem Rad herausnehmen und kann dann in der Wohnung an der Steckdose geladen werden. Vor Diebstahl sind unsere Akkus mittels eines Schließzylinders gesichert. Für unsere Akkumulatoren verwenden wir ausschließlich erprobte Rundzellen von Panasonic. Die Zellpacks werden in Deutschland assembliert und mit einer Sicherheitselektronik versehen, die die einzelnen Zellen vor Tiefentladung und Überspannung schützt.
Hinweise zum richtigen Umgang mit Deinem Akku findest Du in unseren FAQs und in der Bedienungsanleitung zu Deinem Rad.