Electrolyte - The Dreambike Foundry
We are passionate bikers and engineers who specialise in individual bikes. Our fundamental strength lies in lightweight and thoroughly designed Electric bikes. We have been in the market since 2009 and are well known for our unique creations and excellent quality. The core sections of our bikes, like the cnc machined parts from our patented front drive unit are produced in our headquartes in the outscirts of Munich. Engineering, Assembly, final quality control and deliveries take place from here. Custom components required for all our bikes are sourced from companies in Germany and occasionally Europe.
Aside from one of our core special services of custom designed electric bike fleets for companies, businesses can benefit from our 10 year experience in the electric mobility Sector for engineering, product development, quality control and structural testing of electric light mobility vehicles, bicycles and sports equipment. The unique combination of Engineering knowledge, Craftsmanship, attention to detail and expertese in the seemingly endless field of manufacturing and processing technologies makes us a all-in-one suppliers from idea to finished product.
Attention to detail, technical understanding and fine craftsmanship from specialist guarantee the highest quality of our work.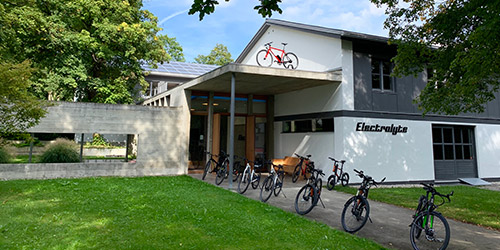 About the Manufactory
---
Require Assistance?
Direkt communication is key to fast serivce turn around Contact us and we take care of the rest! Your bike needs to be up and running in no time - we are here for you
ALLROUND-SERVICE
Raphaelweg 1
85625 Baiern

Opening Hours
Monday – Friday: 10am – 6pm
Saturday on Request